After work yesterday my mum met me to for a quick shop. We were initially there so I could buy myself some new make-up brush cleaner but as soon as we walked into Debenhams and realised there was a sales event all self-restraint left the building! I left with two bottles of brush cleanser and a whole new Clarins facial cleansing set! Both are wonderful, especially with a discount!
This new range of Clarins "Daily Energiser" products came to £40.50 (normal RRP for all 3 £43.50) so although it's not a huge saving I was pleased as it's the first time I'll have tried these.
Similarly, each bottle of brush cleaner was reduced to £7.65 from £8.50 so another good saving on these products.
After doing the rounds in Debenhams we moved on to Bank where I bought the most B-E-A-U-T-I-F-U-L coat by Lipsy. Unfortunately I left it at my best friend's house tonight, boo! But thanks to the internet I've got a photo from
Bank
's website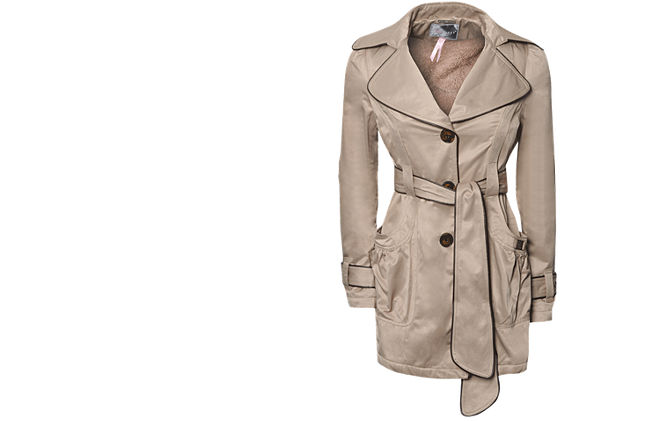 RRP £80. Found at any Lipsy store, stockist or online.
I bought a couple of basic pieces, a plain black dress and a panelled bodycon skirt which has two gold zips on the front (sounds tacky, really isnt!)
And finally, my Pièce de résistance;
Sadly, they're not by Jeffrey Campbell and they weren't mega bucks but I think they're beautiful! They're perfect to walk in as the platform only leaves about 2 inches of extra heel and I really, really like them. This pair were £34.99 by Miso. I know a lot of people aren't partial to the real Jeffrey Campbell Lita style but I much prefer this open-toe style as opposed to the lace-up boot.
To round of a wonderful couple of days of spending my new Ted Baker iPad case arrived! I am absolutely in love with it and it goes perfectly with my purse!
I might go to my polyvore and make an outfit based around my new clothes, shoes and accessories!
xo xo